GW Occupational Health Program
Welcome to the GW Occupational Health (OH) Program provided by the GW Medical Faculty Associates (MFA). The MFA is the physician group practice affiliated with GW that provides a full scope of patient care services and serves as faculty in the School of Medicine and Health Sciences.
This program will provide support for the ongoing health and safety of employees during the campus re-opening in the face of the COVID-19 pandemic.
GW Fight the Flu!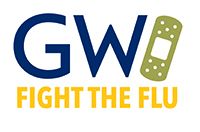 While the university is not requiring students, faculty and staff to get the flu vaccine this semester, the university is following the CDC guidance that strongly encourages individuals to get a flu vaccine every season to prevent flu and its potentially serious complications. Influenza is different from the common cold. Influenza may cause mild and sometimes severe illness. Thus, all members of the GW community are encouraged to secure the flu vaccine this fall.