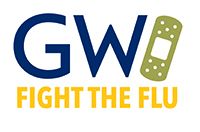 For the health and well-being of GW staff, faculty, and students, as well as the Washington, D.C. community, the GW Occupational Health Program recommends that EVERYONE receive an influenza vaccine this year.
How to get your flu shot at GW
GW will offer free seasonal influenza vaccines to students, faculty and staff at the Foggy Bottom and Virginia Science and Technology campuses. Appointments are not required.
University Student Center Third Floor
Continental Ballroom
Tuesday, September 27, 2022 – 8am to 6pm
Wednesday, September 28, 2022 – 8am to 6pm
Thursday, September 29, 2022 – 8am – 4pm
Tuesday, October 4, 2022 – 8am – 6pm
Wednesday, October 5, 2022 – 8am – 6pm
You will be asked to sign a vaccine consent form onsite. A vaccine formulation for people over 65-years-old or those with egg allergies will be available onsite. This year, we also have available a nasal spray flu vaccine for people who prefer not to receive an injection. The intranasal flu vaccine is recommended only for healthy, non-pregnant adults under 50 years old. There is an additional screening form onsite if you prefer the intranasal vaccine. A medical provider will be available for any questions or concerns.
You may also use your university-sponsored medical plan to receive a flu shot from primary care physicians, area pharmacies and convenience/urgent care clinics, usually at no cost. If you are not covered on a university-sponsored medical plan, please verify costs with your health insurance company. Most plans will cover the full cost of seasonal flu shots. We recommend that you call ahead to your location of choice to make sure that the flu vaccination is in stock.
If you are experience difficulty obtaining an influenza vaccine, please call Occupational Health for assistance, 202-677-6230. or email to gwuocchealth@mfa.gwu.edu.
Visit the CDC or DC Department of Health websites for more information about influenza and influenza vaccines.